Drew Belnap, MD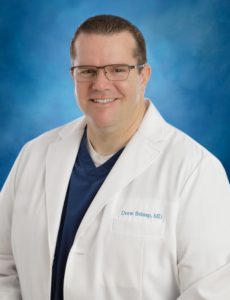 Drew Belnap has over 10 years of experience with IV Ketamine infusions.  In early 2016, he decided to leave the operating room to focus on helping patients find relief from depression, anxiety, PTSD and neuropathic pain exclusively through Ketamine treatments.  His patients appreciate his compassionate, patient centered approach. 
Undergraduate and Medical School
Dr. Belnap graduated Cum Laude from Brigham Young University where he was nominated to be a member of the National Honors Society, Phi Kappa Phi.
After joining the United States Army in 2000, Dr. Belnap moved to the Washington D.C. area to attend medical school at The Uniformed Services University of the Health Sciences.  His deep interest and appreciation for the working human brain began in his first year of medical school where he achieved academic honors in Clinical Head and Neck and Functional Neuroscience.  
Medical Support at the Pentagon on 9/11
Within a few hours of the 9/11 terrorist attack on the Pentagon, Dr. Belnap spent two days providing medical support on the ground to those working in the dangerous firefighting conditions and recovery efforts.  Interacting with the first responders and hearing firsthand accounts from the survivors of the attack reminded him that freedom is not free.  He was proud to be in a position where he could serve and defend our country.
Anesthesiology Training
In 2005, Dr. Belnap completed his medical internship in Tacoma Washington at Madigan Army Medical Center. He then returned to the Washington D.C. area to complete his training in Anesthesiology at Walter Reed Army Medical Center.  After completing his training, he obtained his Board Certification in Anesthesiology in 2009.
Military Service
Dr. Belnap was first stationed at Camp Pendleton, CA for three years.  He enjoyed being 1 of 2 Army physicians at a Navy hospital.  He developed a strong admiration for the sailors and marines he served (even with their teasing of his Army traditions). He spent his last four years in the Army caring for soldiers and their family members at the Army hospital on Fort Carson in Colorado Springs.
Operation Enduring Freedom
In 2009, Dr. Belnap volunteered to be deployed and was sent to Herat, Afghanistan on a unique mission. He was the only Anesthesiologist of a small US surgical team.  His team provided life-saving services to US, Italian and Spanish soldiers at a NATO hospital controlled and operated by the Spanish. When not caring for the soldiers, he helped care for the sick and wounded Afghani children and adults.
Why Dr. Belnap Chose to focus on IV Ketamine
While serving in Afghanistan, Dr. Belnap felt tremendous satisfaction helping the wounded soldiers and civilians.  Since that time, he has longed for more meaningful patient interactions where he could feel that he was making a significant difference in people's lives.
Through two wars, Dr. Belnap cared for thousands of active duty and retired service members and their families. He was disheartened to see so many of them struggling with the effects of PTSD, Depression and Anxiety without significant relief from traditional antidepressant medications.
Dr. Belnap feels tremendous satisfaction witnessing the transformation that takes place as patients get their lives back from neuropathic pain, depression and other mood disorders through IV Ketamine.
Call now for more information (760) 331-7735